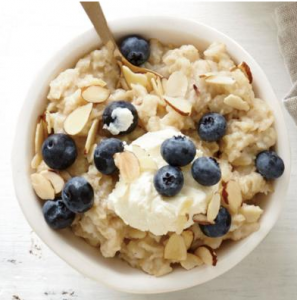 Everyone knows that oatmeal is good for you. It can also get a bit boring. But now, you can have oatmeal your way — delicious every day! Courtesy of Cooking Light Magazine, here are new recipe ideas for turning the every day oatmeal into extraordinary oatmeal.
For each recipe, start with 3/4 cup of water. Bring to a boil, stir in 1/2 cup of old-fashioned oats and a dash of salt. Reduce heat, simmer for five minutes, stirring occasionally. Remove from heat and finish with one of these toppings.
Goat Cheese and Cremini
Saute 1/2 cup of sliced cremini mushrooms and add crumbled goat cheese along with 2 tablespoons of half and half and a dash of thyme. It may sound odd for breakfast food, but it's delicious and perfect for a brunch.
Lemon-Blueberry with Mascarpone
Stir 1 teaspoon sugar and 1 tablespoon lemon curd into oatmeal. Top with 3 tablespoons of fresh blueberries, 1 teaspoon mascarpone cheese and 2 teaspoons of sliced almonds.
Chai Spice and Pear
Saute 1/2 a pear and add 1 teaspoon of honey.Stir in 1 1/2 tablespoons of sweetened condensed milk, 1/8 teaspoon cardamon, 1/8 teaspoon of ginger, and 1/8 teaspoon of allspice.
Sunflower Seed Butter, Banana, and Chocolate
Mash 1/2 banana with 2 tablespoons of your favorite nut butter. Add 2 teaspoons of brown sugar and 1 tablespoon of chocolate shavings.
Got ideas of your own? I'd love to hear about your ways to dress up oatmeal.
Related articles across the web
About Mia Fox
Mia Fox is a Los Angeles-based novelist who writes across varied genres including Contemporary and Paranormal Romance, Chick Lit, and Satire. She received her Bachelor of Arts Degree in Communications from U.S.C. Before writing full time, she worked as an entertainment publicist, a career she chronicles in her novel, "Alert the Media." However, she is happy to leave that world behind her, preferring that any drama in her life is only that which she creates for her characters.