The Surprise Passion series of novellas are steamy stories proving that romance and passion can happen when and with whom one least expects. Each novella offers humor, passion and a story of an empowered woman.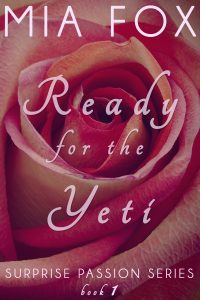 "Ready for the Yeti"

Although Anna hates that this beast has been taken out of the wild, she has no choice but to do as they ask. Her job is on the line and she's been given only a week to harvest the Yeti's sperm for use in a new infertility drug.
While doing her best to tame the beast, Anna is as surprised as anyone, particularly her sexually disappointing ex-boyfriend and boss, to discover that she is more than ready for the Yeti.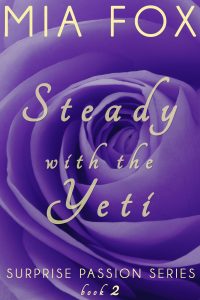 "Steady with the Yeti"
Find "Steady with the Yeti" on Amazon.
Find "Steady with the Yeti" on Barnes & Noble.
Anna is one of the premiere anthropologists in the country, now working for MedSecs, a biotech firm that is leading the race on solving male infertility. Their secret weapon…a captured Yeti.
Seeing this magnificent creature taken from its natural habitat breaks Anna's heart and she is reticent to oblige the demands of her firm. But Anna's boss, David, has given her an ultimatum…retrieve the Yeti's sperm for science or she'll be denied her research grant.
As Anna gets up close and personal with the Yeti, she makes a most surprising discovery. She doesn't want the world to get the Yeti's seed; she wants it all to herself.
Anna must figure out a way to pay off her debts while being true to the Yeti she wants to protect. When David offers an unthinkable solution…spend her days with him so she can enjoy her nights with the Yeti, she realizes what she really desires is to go steady with the Yeti.

"Ethel and the Merman"
Find "Ethel and the Merman" on Amazon.

Find "Ethel and the Merman" on Barnes & Noble.
Ethel has made it her personal mission to avoid men. Twelve years ago, she fell for an actor whose charm and good looks won her over. That momentary lapse in judgement resulted in her getting pregnant.
Although she wouldn't trade life with her son, Jonah, for anything, Ethel is constantly reminded that his father is less than responsible. Having nobody to lean on has made her leery of ever getting involved with another man. That is, until she meets Atlas, a Merman who is more man than any she has ever known.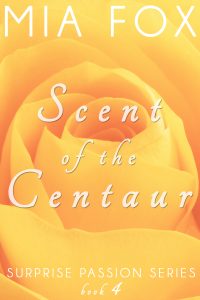 "Scent of the Centaur"
Find "Scent of the Centaur" on Amazon
Find "Scent of the Centaur" on Barnes & Noble
Athena, a college lecturer on Greek history and mythology, has always wanted to visit the faraway country that is home to her family roots and the basis for her professional specialty.
A chance encounter with an older student goes horribly wrong and Athena finds herself on suspension from the university. The only good thing in the midst of this upheaval is that the student was Greek and Athena takes it as a sign that now is the time to finally visit this magical country that houses so many dreams for her.
On her visit, she takes in the beauty of the land, learns about the myths of the culture, and experiences more than she ever expected when she is rescued from a near fatal accident by a handsome stranger — and not just any stranger, but a Centaur.
What transpires between them is a mix of passion and discovery as she learns that this mythical creature is not only a superior lover, but a tender being who is more man than any she has known.

"Sleeping with the Sandman"
Find "Sleeping with the Sandman" on Amazon
Find "Sleeping with the Sandman" on Barnes & Noble
Plagued by memories of the fire that claimed her family when she was younger, Savannah suffers from insomnia and nightmares. Although she is seeking help, Savannah finds that the best therapy is when Sandman visits her at night and not only soothes her mind, but also her body.
He is the only man she dares allow in her bed for fear that her issues would scare off a mere mortal. However, what starts off as a chance encounter with Jed, a handsome stranger, becomes a repeated occurrence as Savannah continually runs into him at a local coffee house. As much as the idea of dating Jed is appealing to her, she won't accept his advances.
Can nightly visits from her other-worldly suitor help Savannah to move on with her life and take a chance on love? Or, will she decide that Sleeping with the Sandman is safer and more satisfying?