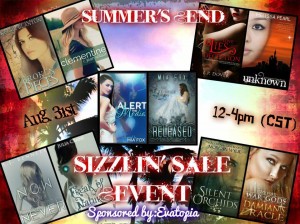 There's no need to be unhappy about summer coming to a close when 13 of your favorite indie authors are taking part in the "Summer's End Sizzlin' Sale."
On Saturday, August 31, 2013 from 12-4 CDT on Facebook (FB not affiliated with this event in any way) participants can take part in giveaways, games, and best of all, unbelievable savings on ebooks.
Summer may be over, but with this sale, it's possible to get lost in a good book straight into Fall. Priced at just .99, participants will find books by the following authors:
A.J. Bennett
Kelsey Blanton
Julia Crane
Megan Curd
L.P. Dover
Mia Fox
Lizzy Ford
Melissa Pearl
R.K. Ryals
Carlie Sexton
Hadley Quinn
R. Jean Wilson
Morgan Wylie
Don't wait; sign up today via this link:
Summer's End Sizzlin' Sale Sign-up
About Mia Fox
Mia Fox is a Los Angeles-based novelist who writes across varied genres including Contemporary and Paranormal Romance, Chick Lit, and Satire. She received her Bachelor of Arts Degree in Communications from U.S.C. Before writing full time, she worked as an entertainment publicist, a career she chronicles in her novel, "Alert the Media." However, she is happy to leave that world behind her, preferring that any drama in her life is only that which she creates for her characters.