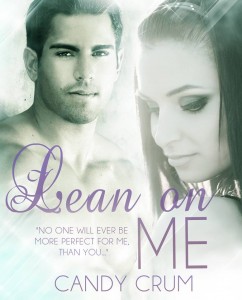 What better way to ring in Valentine's Day than a cover reveal by Candy Crum! This one is for "Lean On Me," with an expected release date of March 16th.
Sixteen year old Bri comes from a wealthy family, allowing her an expensive pass into the popular crowd, though it never much mattered to her. She's on the basketball team and track, and is top in both. In fact, Bri has everything a girl could want, but she longs for a traditional family who loves one another deeply and would do anything for one another instead of the one she was gifted – cold and very distant. Growing up this way has left Bri alone and forced to raise herself.
Bri's parents pressure her to be the best at everything instead of just being the best that she can be. As a result of trying for the perfect life for her parents, hoping that it will one day impress them, Bri finds herself in an abusive relationship for title rather than love with the high school football star and pressured into doing what a lot of teenagers are pressured into doing.
When Bri becomes pregnant, her entire world is turned upside down and she has no idea who she can trust anymore. Bri struggles to find a place in this world for herself and for her baby – the baby that she is desperate to have and watch grow. Along the way, Bri is given an opportunity to completely change her life and the life of her child – but it may hinder the life of someone incredibly important to her … binding him to a future he was never meant to have, just for her. Bri is forced to grow and grow stronger as she fights for her baby and learns how to be a good mother.
Add to your Goodreads TBR list