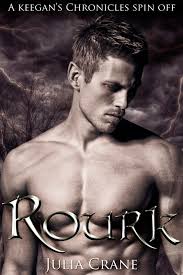 "Rourk" by Julia Cranes launches today and it looks amazing! Here's the details about this hot new novella:
Rourk Kavanagh is an elite elfin warrior, and a member of a human Special Forces team. During a routine mission in Afghanistan, he crosses paths with a dark supernatural creature—a d'jinn.
His world gets turned upside down when the unthinkable happens: Keegan, his one true love, is kidnapped by an evil d'jinn. The d'jinn is seeking revenge for the death of his brother at Rourk's hands.
Fueled by fear over the potential loss of his wife, Rourk has only one thought—embrace the rage.
So what are you waiting for? Go on and grab your copy.