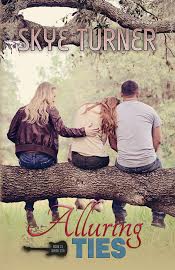 Alluring Ties by Skye Turner is a companion novella to the Bayou Stix series. It's Book 2.5 Bayou Stix. In Alluring Turmoil, we were introduced to Lexi Sloane's two best friends, Bradi and Erik. Alluring Ties will take you on a journey into their pasts and bring you to their present.


Bradi St. James is a force to be reckoned with. She's strong, independent, and has something to prove. All of her life, she's watched the world around her and is determined to have a different fate from what she's grown up with. The path you've always believed to be the right path, may not be your destiny after all. 


Erik Jenson is a kind man. A nurturer and the kind of friend everyone wants to have. Growing up surrounded by friends and family who support him, he's a confident man. The choices he must make and the chances he must take as he lives and grows make him the strong, loving man he becomes. 


Alluring Ties contains explicit sex, including some male/male, strong language and is not intended for anyone under the age of 18 or anyone who does not like M/M romance.
About the Author….
Skye Turner is an avid reader and an editor turned writer. She attended Southeastern Louisiana University and Louisiana State University where she majored in Mass Communications, centering her studies in Journalism.
Unfortunately life intervened and she made the choice to leave her studies. She lives in small town Louisiana with her husband, 2 children, and 4 fur babies. When she's not chained to her laptop pounding out sexy stories she can usually be found playing Supermom, reading, gardening (playing in the dirt), listening to music and dancing like a fool, or catching up on her family oriented blog.
Facebook: https://www.facebook.com/SkyeTurnerAuthor
Blog: http://skyeturnerauthor.com/