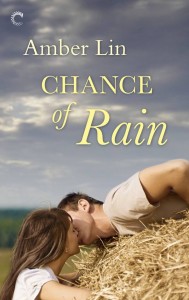 Author Amber Lin has a new release, "Chance of Rain." One look at this beautiful cover and my imagination immediately flew with the possibilities of what that title might mean. I can't wait to dig into it.
Here are more details:
The only things Natalie Bouchard wants to change are the weekly specials in her Gram's diner. So when her high school sweetheart strolls back into Dearling, Texas, she allows herself to indulge in a little flirtation, but that's as far as it goes.
Navy SEAL Sawyer Nolan has returned to sell his father's land and get the hell out, no matter how enticing he still finds Natalie. Until a storm rolls over the Texas hills, stranding them together at the farm…and the memories of their steamy past lead to a reunion filled with hot days and long nights.
Soon Natalie's so far under Sawyer's skin he can't imagine being without her. But he has a lot of history in Dearling he'd like to leave behind, and Natalie is practically married to this town. If Sawyer wants to be more than just another person who leaves Natalie, he'll have to give his hometown—and himself—one more chance.