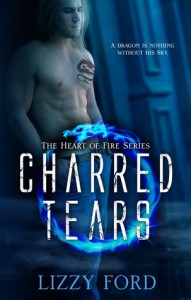 Lizzy Ford's "Charred Tears," the follow up to "Charred Heart" is expected to launch on December 16 and you don't want to miss it.
The scoop:
Skylar is being hunted by the very people she used to trust. Stung by Chace's betrayal, she struggles to keep one step ahead of the slayers while digging deeper into the past she doesn't remember for answers. Her heart belongs to Chace, but she won't be fooled by him again, not when the price of trusting him could cost more than their lives.
Chace got what he wanted – freedom from the curse – only to discover he's given up much more than the power he didn't want. He's lost the woman who holds the other half of his heart. Exiled and powerless, he's all that stands between her and the danger tracking both of them. To save her, he must prove himself worthy of her heart and trust and find a way to recover the magic he traded to become human.
Add it to your Goodreads TBR list today! And while you're at it, check out the first in the series, "Charred Tears."