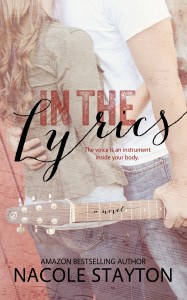 Get ready! Nacole Stayton's "In the Lyrics" cover reveal is here!
This is a NA book intended for audiences 18+. Cover design by Toski Covey Photography and Sommer Stein of Perfect Pear Creative.
Alright…now that I've gotten the details out of the way, here's the synopsis:
Hensley Bradley is the definition of the girl-next-door. She's kindhearted, beautiful, and talented. Bored with her mundane life, thoughts of fleeing her small town begin to consume her. With aspiring dreams to use her voice as a one-way ticket, she suddenly discovers that music might not be her only passion.


After a fallout back home, Colby Grant decides to leave his family's farm, determined to show his father he's more than just a wanna-be country singer. With his All-American good looks, it doesn't take long for girls in his new town to focus their eyes on him. But things aren't what they appear from the outside, and it isn't long until Colby feels he doesn't fit into the perfect world that so quickly embraced him. 

A chance encounter places Hensley in Colby's path, but it isn't her natural beauty that first captures his attention – it's her voice.


When love and music mix, will the combination blossom into a beautiful melody or wither into a heart-wrenching tune?
Look for "In the Lyrics" to be published on February 7, 2014 and in the meantime, add it to your Goodreads TBR list.