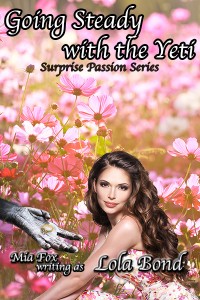 I've debuted a humorous erotica series called The Surprise Passion Series, which will show how passionate moments can arise in the most surprising of circumstances and with creatures or beings one may never have expected.
Starting with "Ready for the Yeti," the books are available on all popular book sites and are priced at just .99. Today, the follow up, "Going Steady with the Yeti," debuted.
These books are written with the same Mia Fox light sense or humor, but by Lola Bond, a pen name I've created for my naughtier writing. Although categorized as erotica, they are written with a light-hearted tone and designed for women who have a sense of humor and are wanting an escape.
I hope you enjoy this new series.