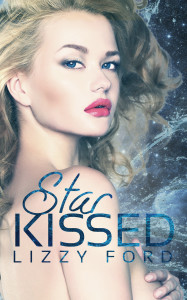 The phenomenal Lizzy Ford is a writing demon with a plan to release at least six books this summer. Lucky for her fans, she's sure to make that self-imposed deadline and her latest is "Star Kissed."
Here's the synopsis for this sci-fi fantasy.
When Mandy loses her job, she thinks she's hit rock bottom – until her plane is swallowed by a strange storm that sends her and everyone else on board 10,000 years into the future. At first, she thinks the scary world is nothing more than a bad dream. The war-torn Earth is unrecognizable. Black fog blocks the sun, and the oceans are dry. Even worse: the planet is inhabited by half-human, half-alien creatures dying from a mysterious disease. Horrified at the thought of spending her life here, she clings to the knowledge that there's one man who can open the star gate to send her home.
As the Naki prince who controls the star gate, Akkadi gets first choice of any human female that makes her way through the star gate. Only by breeding with purebred humans from the past can his race hope to remain immune to the disease and hopefully, develop an eventual cure. With shrinking resources and a raging battle for the human planet, dutiful, commanding Akkadi is less than thrilled at the idea of trying to figure out Mandy, a woman he views as wild with neither discipline nor respect for someone in his position.