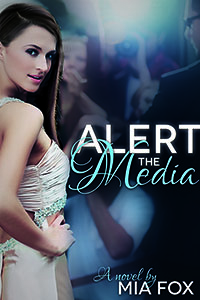 There's something magical about seeing your own cover for the first time. It's like finding the perfect dress to wear to the prom…nothing beats that feeling of "that's it!"
That's exactly how I felt when I first saw the cover for "Alert the Media," my latest novel, a fun, farcical, contemporary romance set in the world of Hollywood public relations battles.
Naturally, I had my own ideas of what I wanted the cover to look like, but fortunately I had the very talented Eden Crane to guide me…and set me straight about my own less than artistic vision!
Look for "Alert the Media" at the end of June 2013 on all of the usual places where ebooks are sold.