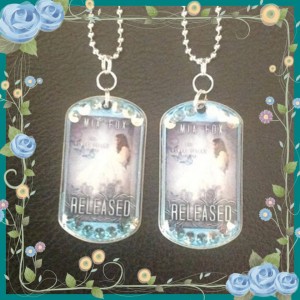 Have you heard? It's giveaway time!
I recently discovered Danielle's Dazzling Designs and fell in love with her swag. Naturally, I had to grab up some goodies that reflected by debut novel, "Released."
So to properly celebrate my discovery, coupled with the 1,000 Likes event held by Danielle, I'm holding a giveaway. Here's what's up for grabs:
Signed copy of "Released"
"Released" dog tag necklace
"Released" guitar pick necklace
"Released" key chain
"Released" mini sticky notes
"Released" mouse pad
All you have to do is visit Mia Fox's Giveaway and join us on Facebook Saturday, July 20th at 12 p.m. CDT.
Make sure to also swing by Danielle's event, scheduled for the same time.
These events are not endorsed or sponsored by Facebook.