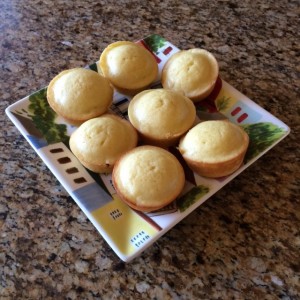 After the holidays, I was torn. I still was battling a sweet tooth thanks to the Christmas stocking chocolates, but I wanted to start eating healthy again. Giada has a great muffin recipe that is only 200 calories (as opposed to the Starbucks' 400+ calorie muffins!).
There is hardly any fat and they're dramatically low in gluten, although there is a tad in there. Give them a try.
2/3 c. sugar
3 large eggs
grated zest of one orange
1/3 c. orange juice (I used tangerine and it was delish)
1/4 c. olive oil (that's right…no butter in these)
3 T. plain greek yogurt (I tried vanilla for a slightly sweeter taste)
3/4 tsp. vanilla extract
3/4 tsp. almond extract
1 c. flour
2/3 c. almond flour (rice flour works also)
1 1/2 tsp. baking powder
1/4 tsp. salt
Heat oven to 325 degrees. Grease muffin tins. Mix wet ingredients in mixer. Slowly add in dry ingredients. That's it! Now bake for 20 minutes and cool in the muffin tins for 20. Easy peasy.