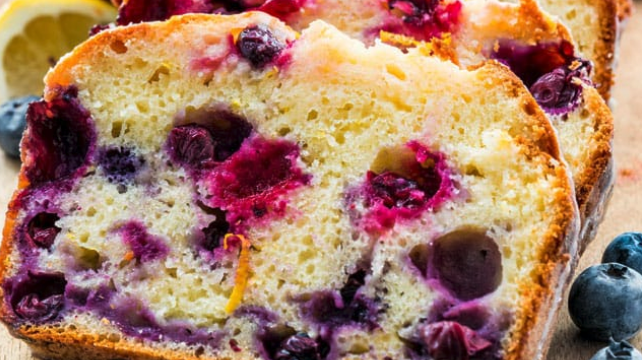 This past week, my family's quest to eat healthy or more specifically, avoid high fat and carbs in favor of anti-oxidant foods, erupted in a mountain of blueberries that turned to blueberry lemon loveliness.
I took my usual trip to the market and decided to buy the largest box of blueberries. Buying extra made sense because we had been popping them plain as snacks, putting them in yogurt parfaits in the morning, and serving them with vanilla flavored almond creamer (just a drop, I swear) for dessert. But then… it was a case of blueberry overdrive.
Blueberry Overdrive Arrives
My husband passed a fruit stand on the side of the road and detoured to make a stop. He didn't know that I had gone to the market just an hour prior. He also decided to buy extra blueberries. I had thought that the pack I purchased was large, but what he brought home put my Trader Joe's box in its place. His purchase was the muscle box of blueberries… big enough to feed a family for a week. At least, that was his intention.
Best-Laid Plans
The saying goes, "The best-laid plans of mice and men often go awry." We just had too many blueberries. I'm not a wasteful person and I knew that there was no way we could eat this many before some of them started to spoil. It was time to bake! I was thrilled because frankly, after writing, baking is my number one way to relax. There's something about churning the butter with the sugar, adding the eggs, one by one, and smelling the scent of vanilla as I drizzle in that delectable teaspoon of extract.
Return to Carb Land
I looked at my husband and explained that I had to bake. I just had to. He raised his eyebrows knowing that I had been looking for an excuse for over a week. In truth, I think he was happy. He always says my baking was partly responsible for him falling in love with me. I told the kids that we should celebrate a half birthday since nobody in my family has a June birthday. And then, ta-dah… blueberry overdrive arrives and I had a reason to embrace my love of butter and flour recipes again.
Blueberry Lemon Loveliness
I gained inspiration from Tieghan Gerard's Half Baked Harvest blog when I created Blueberry Lemon Loveliness. Her version has a few difference in the ingredients and it's baked in a loaf pan, but I can't use the word loaf to describe this because it's not a lazy loaf. This delicious any time snack tastes likes it's jumping for joy. Here it is …
Ingredients:
1 stick (8 tablespoons) butter (softened)
1/2 cup sugar
2 tablespoons lemon juice (add the zest of the lemon for an extra burst of flavor)
1/2 cup vanilla yogurt
1 teaspoon vanilla extract
2 large eggs
1 1/2 cups all purpose flour
1 1/2 teaspoons baking powder
1/2 teaspoon kosher salt
1 heaping cup fresh blueberries
3 tablespoons any variety of fruit jam
For the glaze:
2/3 cup powdered sugar
3 tablespoons lemon juice
Instructions:
1. Preheat your oven to 375 degrees F. Grease a 9×5 inch pan.
2. Mix together the butter, sugar, eggs, vanilla, yogurt, and lemon juice.
3. In a separate bowl, combine the flour, salt, and baking powder. Toss the blueberries within this mixture. (Did you know that coating the blueberries in flour helps them to float in the batter rather than sink to the bottom of the pan?)
4. Gently fold the flour mixture into the butter mixture.
5. Spoon half the batter into your pan. Smooth a layer of jam on top of the batter, then top with the remaining half of batter.
6. Sprinkle some extra sugar on top of the Blueberry Lemon Loveliness and tell it how beautiful it looks. Everyone, even baked goods, needs some positive accolades from time to time.
7. Then bake for 55 minutes, or until the center isn't wiggly jiggly. Remember, it was a muscle box of blueberries!
8. Make the glaze while the Blueberry Lemon Loveliness cools. Simply combine the lemon juice and powdered sugar.
9. Once it's cool, take the cake out of its pan and spoon the glaze over the top, allowing it to drip down the sides.
Enjoy!