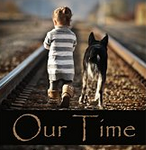 I want to give a shout out to readers looking for something special…Our Time by Jessica Wilde. This book has 29 wonderful reviews. You can check out one customer review here.
For more details, read on…
Jocelyn White's only priority in life is her daughter, Olivia. As a single mother, with no family and the only friends she had now hours away, life isn't easy. But the last several years taught her what is truly important and she plans on spending the time she has loving her little girl and keeping her safe and happy. She doesn't plan on her new gorgeous, blue eyed neighbor turning out to be the one thing her and Olivia have been missing.
Andrew Carter has been waiting his whole life for a woman like Jocelyn. After his parents died years before, leaving him to care for his little sister, Madison, he spent years patiently waiting for a family of his own. When Jocelyn and Olivia completely steal his heart, he knows his patience has finally paid off and it's time for his life to finally start.
What he doesn't know is that Jocelyn is keeping something from him. Something she learned a few years ago.
Life is short and sometimes, time isn't on your side.