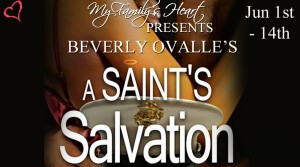 I have an opportunity to share information about "A Saint's Salvation" by Beverly Ovalle. For those who want a peak into Beverly's mind, make sure you catch the great interview at the end.
BOOK INFORMATION
TITLE –  A Saint's Salvation
AUTHOR – Beverly Ovalle
GENRE – contemporary military romance
PUBLICATION DATE – Feb 10, 2014
LENGTH (Pages/# Words) – 61
PUBLISHER – Secret Cravings Publishing
COVER ARTIST – Dawne Dominique
BOOK SYNOPSIS
Corporal Nicholas 'Saint' Santiago needs to go home to reclaim the man he used to be. To be the man he was before Operation Enduring Freedom slowly hardened his heart. He needs to reconnect to the values and the reasons he is doing what he does. Saint also needs to try to forget the courageous woman he knows was meant to be his.
Petty Officer Angelina Jones' life changed the moment Saint saved her life. She survived the blast but now has to deal with the fact that she will never be whole. Knowing Saint received a 'Dear John' letter, Angelina has no intention of being his rebound romance. She needs to be loved for herself. She needs to forget about the one man she knows was meant to be hers.
They each try to find someone to help them forget.
But what does fate have planned for them?
BUY & TBR LINKS
AMAZON KINDLE US – http://amzn.to/1KtxDjs
AMAZON KINDLE CA – http://www.amazon.ca/Saints-Salvation-Beverly-Ovalle-ebook/dp/B00II8OTU8/
AMAZON KINDLE UK – http://www.amazon.co.uk/Saints-Salvation-Beverly-Ovalle-ebook/dp/B00II8OTU8/
BARNES & NOBLES NOOK – http://www.barnesandnoble.com/w/a-saints-salvation-beverly-ovalle/1118637570?ean=2940148157076
SMASHWORDS – https://www.smashwords.com/books/view/416352
KOBO – https://store.kobobooks.com/en-US/ebook/a-saint-s-salvation
GOODREADS – https://www.goodreads.com/book/show/20623026-a-saint-s-salvation
SECRET CRAVINGS PUBLISHING – http://store.secretcravingspublishing.com/index.php?main_page=book_info&cPath=4&products_id=824&zenid=0273b80c166317bb654c8145d5a109c2
BOOKSTRAND – http://www.bookstrand.com/a-saints-salvation
ALLROMANCE – https://www.allromanceebooks.com/product-asaint039ssalvation-1425306-149.html
SHELFARI – http://www.shelfari.com/books/37293882/A-Saints-Salvation
EXCERPT
"Help me roll this on until we can get him out of here." Her voice sent a ripple through him. Nick had always ignored the attraction he had felt for her. He'd had his girl back home, and fraternization out here could get him thrown in the brig. Not to mention the brig out here was a hell hole.
Nick was leery about approaching Doc now. The Dear John letter had been a shock. He had known Leila for years. Hell, they had been friends since they were little. Her betrayal was unexpected. Nick didn't even really know Doc. He could trust her with his life, but he wasn't ready for another go around with his heart, no matter the attraction he felt.
Nick looked toward the fence line, rifle at the ready. Shots were firing sporadically around him. That's when he saw it, the trail from a grenade launcher, unmistakable. Shit!
BOOK TRAILER
AUTHOR BIO
Beverly Ovalle dabbled with writing on and off for years when her best friend finally dared her to submit a story to a writing contest. Beverly decided she had nothing to lose and since she'd always wanted to be an author sent it in and agonized for months waiting to hear back. Contract in hand she has never looked back.
Beverly has been obsessed with dragons and romance since she was a young girl, collecting dragon books and reading everything she could find on them even down to the care of real life dragons. She's always been slightly panicked that the world as we know it will end, so has prepped for it, haunting survivalist pages and prepper projects she felt she needed in the event SHTF.
An avid fan of all romance, Beverly's goal is to share her love of the written word and write the hot and erotic romances that she enjoys. She writes what she loves to read and it was only a matter of time before her obsessions crept into her writing for her to share. She hopes you enjoy her tales as much as she loves writing them.
A Navy Veteran, Beverly has traveled around the world and the United States enabling her to bring her settings to life, meeting and marrying her husband of twenty five years along the way for her own romance. Reading romances since the fourth grade she's followed as the genre changed and spread into the vast cornucopia of romance offered today.
Fun Facts:
The name was changed less than two weeks before publication!
A Saint's Salvation was inspired by my son's tattoo
His tattoo says 'St. Nicholas' – the original name of my book
A Saint's Salvation took me eight months to write!
The name A Saint's Salvation was my editor's suggestion
The teasers were made from photos from Afghanistan
The Marine in the teasers is my son
He only gave me permission to use his photo because he loves me
He only gave me permission if I cut off his head! LOL
AUTHOR FOLLOW LINKS
AMAZON AUTHOR PAGE – http://www.amazon.com/Beverly-Ovalle/e/B00BOGT8MU/
WEBSITE / BLOG – www.beverlyovalle.com/
BLOG – www.beverlyovalle.net
BLOG – www.SSLYblog.wordpress.com
FACEBOOK – https://www.facebook.com/BeverlyOvalleAuthor
TWITTER – https://twitter.com/ovalleba
TWITTER – https://twitter.com/FatedDragons
GOOGLE+ – https://plus.google.com/u/0/+BeverlyOvalle0211/posts
PINTEREST – https://www.pinterest.com/ovalleba/
TUMBLR – http://ovalleba.tumblr.com/
GOODREADS – https://www.goodreads.com/author/show/6982787.Beverly_Ovalle
TSU – http://www.tsu.co/BeverlyO
AUTHORDB – http://authorsdb.com/authors-directory/3752-beverly-ovalle
NEWSLETTER – http://eepurl.com/-r58z  
An Interview with Beverly Ovalle
1. What does your writing process look like? I usually have one tab open to the internet so I can look up anything I think I need while I write. I've been trying to work within a plotting framework but I'm a seat of the pants kind of girl.

2. Do you have any strange writing habits? Can we say messy? I usually end up writing all snuggled in my bed in front of my laptop. I have an old hospital serving tray type thing that I picked up at the thrift store that is perfect for my laptop so it is in front of me with another section that holds my various beverages and a snack, my phone and kindle. Once I'm comfortable in my nest I start to write.

3. What is your favorite/least favorite part of the writing process? Remembering my characters personal characteristics. I try to write the basics all down but if I forget I have to go back and read what I've written and end up editing everything to get back to where I left off.

4. Is there a subject you would never write about? I would never write about cheating on a spouse. I don't read them either.

5. How important are names in your books? How do you select names? Sometimes they are just names I like, but most of the time, I search baby books to find a name that matches something about the character. I don't always remember them though! But it is important to start the book that way for me.

6. What literary character is most like you? Um, I'm a comic book kind of girl. So I'm going to say Wonder woman. <grins>

7. What is something you want to accomplish before you die? I'm not sure so bear with me while I ramble. I've jumped off a cliff into a sink hole, I've climbed a pyramid in Mexico. I've travelled around the world with the US Navy. I'm married, have two children, written and published books. I'm in a career I enjoy. I've never wanted to climb mountains or jump out of planes. Maybe I would go to culinary school. I love to cook. And learn to properly can food. I'd love to be able to do that.

8. Where is one place you want to visit that you haven't? Europe. Is that too broad? I want to visit a castle, see Piccadilly Square, walk in the Highlands, kiss the blarney stone, see that great art work in the Louvre and see the coliseum. I'd love to see Egypt but with the way the Middle East is, I don't think I will ever go there.

9. What books/authors have inspired you? Too many to name! Every author inspires me to create.

10. What are you working on now? I am working on a dragon shifter book tentatively named A Dragon's Treasure. I'm on the last chapter before sending it out to beta readers. Hopefully it will be out this year or early next year. I am also editing a military romance, Love Me Forever that will be coming in July in an anthology with Secret Cravings Publishing. I'm also working on edits on Stealing Hope A Dragon's Fated Heart that will be coming to Ardent Books in August or September.
This book blitz/tour was organized and hosted by My Family's Heart.