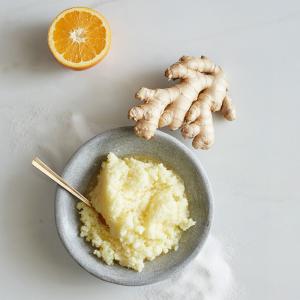 Looking for a clever craft to use as holiday gifts this year? Why not try a DIY Orange Ginger Body Scrub. It's easy to make, smells great, and will leave the skin silky smooth.
Combine 1 1/2 cups sugar with 1 cup of coconut oil.
Beat in a mixer on low for about two minutes until a paste forms.
Add 1/2 cup of fresh-Squeezed orange juice and 1 1/2 tablespoons of grated ginger. Mix again just until blended through.
Find a cute tub, top with a holiday ribbon, and voila…you've created a spa escape for your friends and loved ones. The holidays are meant to be an enjoyable time of year so if you know of more easy holiday gifts or great family recipes, please feel free to comment and share.
Related articles across the web