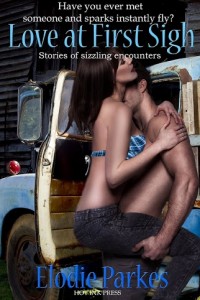 BOOK INFORMATION
TITLE – Love at First Sigh
AUTHOR – Elodie Parkes
GENRE – Contemporary erotic romance
PUBLICATION DATE – August 16, 2014
LENGTH (Pages/# Words) – 45 pages, (two stories within)
PUBLISHER – Hot Ink Press
COVER ARTIST – Elodie Parkes
BOOK BLURB
Two sizzling contemporary romance stories
Handy Hubby Hire
Tired of the maintenance jobs mounting up in her house, Sara hires a handyman. She never dreams someone like Griffen Fox will show up to fix the faucets and back yard gate. Sparks fly, but will they lose their heart to each other?
Pina Colada
When Emma takes a long weekend vacation in a warm beach resort, she meets the very handsome Matt Tyler. They spend an idyllic few days together. Will this only be a holiday romance?
Get your copy today…
Add it to your Goodreads TBR list…
Goodreads
AUTHOR BIO
Elodie Parkes is a British author writing romance, erotic, contemporary, and often with a twist of mystery, paranormal or suspense. Her books are always steamy — cool stories and hot love scenes.
Elodie lives in Canterbury with her two dogs. She works in an antique emporium by day and writes at night, loving the cloak of silent darkness that descends on the rural countryside around her home.
Elodie writes for, Hot Ink Press, Moon Rose Publishing, Eternal Press, Secret Cravings, Evernight, and Siren Publishing.
She has also released titles as an individual indie author.
Blitz Organized By