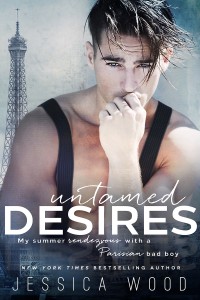 Ready for a cover reveal? Untamed Desires by Jessica Wood is coming in September 2015 and I'm pleased to reveal the cover today.
Make sure to add this book to your Goodreads TBR list here.
Read on for more details about Jessica Wood's upcoming release…
It'll be the summer she loses everything she was to him. 

Naomi desperately wants to get away from her life. Her boyfriend dumps her out of the blue, her best friend stabs her in the back, and her boss fires her—all in the same week. So when the opportunity to spend the summer in Paris for free lands on her lap, she jumps at it.

When she arrives in the most romantic city in the world, she imagines a summer of self-discovery, away from all the drama. But when she meets Sebastian, the Parisian bad boy who lives next door, Naomi knows she was wrong. Sebastian is seductive, mysterious, and everything Naomi is not. When he offers to be her personal guide around Paris, she knows it's going to be the summer she loses herself completely to Sebastian and his world of secrets.
To be notified of Untamed Desires' release, sign up for Jessica Wood's mailing list.