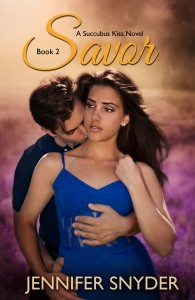 I'm so excited to celebrate the release of book two in Jennifer Snyder's Succubus Kiss series, SAVOR! Enjoy reading novels with paranormal elements, mystery, and a touch of romance? This series has it all!
About Savor:
Succubus Kenna Blake has been infected by a wraith…
The infection is just the beginning. As the wraith slowly gains control, Kenna must fight to keep a firm hold on her succubus nature, before she disappears completely.
Following the only clue her mother has to offer, she tracks down the infamous Luke Bloom, owner of Love Potion #9, hoping for the answers she desperately needs. Unfortunately, Luke doesn't harbor the magic that could rid her of the wraith and save Kenna's soul…but his twin sister, Lexy does.
The problem: Lexy Bloom relinquished her magic five years ago and went into hiding.
As Kenna finds herself plagued by nightmares created by the wraith, she vows to do whatever necessary to rid herself of its darkness. Until she learns her only escape comes in the form of a rare spell requiring a shocking cost…
Savor is available at these online retailers:
Amazon, B&N, iTunes, Kobo, Google Play, Smashwords
You can start this series with the free prequel, Kiss of Awakening.
About Jennifer:
Jennifer Snyder lives in North Carolina were she spends most of her time writing New Adult and Young Adult Fiction, reading, and struggling to stay on top of housework. She is a tea lover with an obsession for Post-it notes and smooth writing pens. Jennifer lives with her husband and two children, who endure listening to songs that spur inspiration on repeat and tolerate her love for all paranormal, teenage-targeted TV shows.
Find out more about her latest novel by visiting her website. Connect with Jennifer on her Facebook Author Page, Twitter, or through Instagram.
Best of all, Jennifer is offering up a giveaway of goodies. This Giveaway is international! Best of Luck!