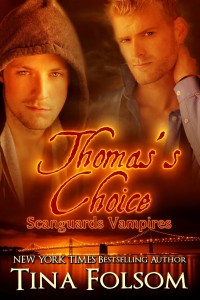 Fans of Tina Folsom's Scanguards Vampires series have two reasons to celebrate. The first: her latest novel, "Thomas's Choice," is now available; and second, you can download an exclusive excerpt directly from her site.
Scanguards vampire and master of mind control Thomas has mentored newbie vampire Eddie for over a year—and been in love with him for just as long. But he believes that his love will never be reciprocated.
While patrolling San Francisco for evil vampires, Eddie kisses Thomas as a diversionary tactic and is shaken to the core by his reaction. He's terrified of his sexual attraction to his mentor and afraid that moving forward and giving into his desires will destroy the relationship they have.
When hurt and disappointment about Eddie's inability to commit leads Thomas onto a dark path that spells destruction for all those he loves, only Eddie can pull him back from the brink of eternal darkness. But does Eddie have the courage to face his true feelings in time to save the man who's meant for him?
What's up next in the series? Coming spring 2013 look for "Oliver's Hunger."