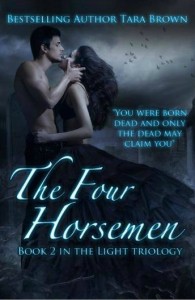 Today marks the release of Tara Brown's "The Four Horsemen," book two of her Light Trilogy.
"You were born dead and only the dead may claim you"
Her dreams have not changed, nor have the words being whispered to her.
Rayne has until her birthday to finish the job she started,
but just as she ends the second devil, things change.
She discovers the Van Helsings are not the only things hunting her.
The four horsemen of the apocalypse have also begun a journey of their own, leaving disaster and chaos everywhere they go.
They hunt her to the ends of the earth and its darkest corners.
What they find surprises them.
Still dependent upon her friends and the magic of the world others cannot see, Rayne finds herself in the fight for more than just her life.
She must also find the strength to save the world.
She must be The Light of the World.
Get your copy today: