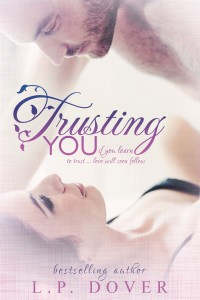 For fans of L.P. Dover's "Forever Fae" and "Second Chances" series, her latest is sure to please.
"Trusting You" will kick off with a fantastic release party on Tuesday, October 8 from 8-10pm EST here.
Here's the teaser..
I trust you …
These are the three words that Melissa Ashford wishes she could say to someone; to the one person she can fully give herself to and not worry about being betrayed. Being twenty-eight years old and divorced from a cheating ex-husband, Melissa enjoys her freedom until one night she finds herself indulging in a one night stand that changes everything.
There's something about the alluring Brett Walker that has Melissa feeling things she's never had with any other man; feelings that not only scare her, but push her past her limits. Just when she begins to open her soul to this new love their bond is put to the test when jealousies from the past try to break them apart.
It's not only Melissa's trust that's put on the line, but Brett's as well. Will their love be strong enough to get them through the lies? Will Melissa finally be able to say those three words she's been dying to say? I trust you …