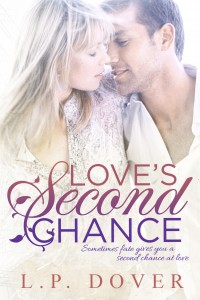 L.P. Dover's "Second Chances" series encompasses the books "Loves Second Chances," "Trusting You," and "Meant for Me." These are stand-alone books that can be read in any order and I highly recommend that you do so. I'm so pleased to give you a chance to "meet" some of her amazing characters.
…from "Love's Second Chance"
Korinne Anders – She is twenty-eight years old with smoky gray eyes and long, golden blonde hair. She lives in Charlotte, NC and is an interior designer. She suffers a tragic loss when her husband dies in a freak accident. She says that she will never love again until the handsome Galen, a former college sweetheart, comes back into her life and that makes her think twice about her decision. She can be stubborn at times, but has a heart of gold.
Galen Matthews – He is twenty-eight years old with spiky ash blonde hair and eyes so blue you would think they were magical. He took over running his family business, M&M Architectural Building and Design, after his father passed away and that keeps his schedule very busy. Galen has always loved Korinne since they dated in college, and was never satisfied with anyone he dated after her; they never measured up. Galen is still in love with Korinne and hopes to be able to rekindle their love.
…from "Trusting You"


Melissa Ashford – 28 years old with wavy, auburn hair. She works as a high school Biology teacher and loves it. Recently divorced from her ex-husband who cheated on her with their neighbor. Lives in Charlotte, North Carolina and has all her life. Her favorite food is Italian. She's feisty yet stubborn and knows how to have a good time, even if that means not making the best of choices. Her favorite pastime is sitting by her pool in the afternoons with a good book to soak up the sun. Classical music is a must.
Brett Walker – tall, dark and handsome. Country boy who was brought up by his grandparents on a farm in North Carolina. Now he's an architect who works for the illustrious M&M Architectural Design and Building company. Passionate lover and likes to be in control. Loves Jeeps and rock music. He also knows how to cook.


…from "Meant for Me"


Claire O'Briene – twenty-seven year old from California. Once her mother passed away she inherited the family vineyards and winery. Her friend, Melissa, owns part of the vineyards as well and they run the winery together as partners. Dancing was her one desire growing up, but a biking accident ruined her chances of a professional career. Lived in Las Vegas for a while after the accident so she could recuperate from the depression. Earned a business accounting degree so could successfully take over her family's heritage once it was left to her. Loves to be reckless, drive fast, jump out of planes, and anything adventurous. Her favorite dessert is chocolate pastries and she loves to wear sundresses.
Mason Bradley – thirty year old undercover cop and MMA fighter. Used to be well known in the MMA community before he left the scene to take care of his mother who was sick with terminal cancer. Lives for the job and usually has no other time for anything or anyone else. Loves heavy metal and rock music, especially the Beastie Boys. He's always been a protector, it's in his blood. His favorite alcoholic beverage is a gin and tonic, but a good shot of whiskey is right up there with that. He has a new found fascination for chocolate pastries (you will see why when you read the book). On his left arm he has a sprawling tattoo of an eagle from his shoulder down to his elbow. The eagle is very important to him.
Find L.P. Dover's books on Amazon.