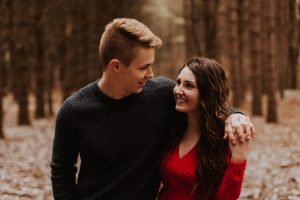 You met a guy. Maybe, you met The Guy! One thing is for certain, your first activity together sets the course for your relationship. After all, you can't tell your future grandchildren about the amazing first date you had if you never experience it. Read on for suggestions on the top five ideas for a great first date.
Go on a Walk
Simple. No excessive planning or spending needed. There is plenty to see or you can take time to look into each other's eyes. A walk is a chance to breathe, take in the scenery, and let conversation flow. But if conversation slows, perhaps it's just a comfortable silence. It's nice to "just be" and not worry about always saying the right thing.
Visit a Museum
Museum visits are great because you don't have to be by each other's side every second. It gives you a chance to have some space and then frequently come back together to share what you saw. There's also plenty to talk about when you're looking at the exhibits. You don't have to get too personal or ask stumble for talking points. You can simply speak to what's right in front of you.
Shop at a Farmer's Market
A farmer's market shopping trip is a great way to get outdoors and enjoy a laid back setting. You can sample the wares of the farmers. I know that the idea behind a farmers market is to get fresh fruits and vegetables, but these days there are also pastry chefs who sell homemade baked goods. Many farmers markets are located near coffee houses so you can buy some homemade goodies and then turn your shopping expedition into breakfast.
Ice Cream
As the saying goes, "I scream, they scream, we all scream for ice cream!" A first date is a perfect excuse to go out for ice cream. Even someone who is lactose intolerant can find an assortment of sorbet or sherbets that will appeal to them. You can sit and talk in a quiet corner or if there isn't such a place, take your ice cream on a stroll.
Bake Cookies
You caught me… it's hard to contemplate eating ice cream without cookies too. Baking cookies is a low stress and fun activity. One could get together to cook dinner, but that puts a bit more pressure on the situation. It's also harder to focus on conversation when you have an entire dinner to prepare, not to mention there's the clean-up afterwards. Baking cookies has the added bonus of eating out of the batter bowl together.
No matter what you do, make sure to have a great first date by adding a smile to any activity. It will go a long way to making each other feel comfortable and telling your date that you are having a great time.