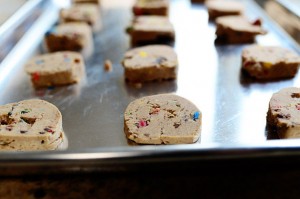 What do you do when your characters are having hissy fits and decide to run away from home? Procrastination comes to mind. But, in my effort to ban that negative word from my vocabulary and life I've decided to create a new column: "What's Mia Making?"
Some of you smarty pants might be saying, "Ah Mia, you've got writers block again." That's one way of thinking of it. But for me, a girl who prefers to see the glass as half full, it's my way of doing something useful for my family while imagining what my characters would say if they were in the kitchen with me. Raven from "Released" would probably threaten to add two or three extra tablespoons of salt because she's always one for throwing that into wounds!
Today's endeavor is an amazing refrigerator cookie. What makes them so good? They have more delicious ingredients per capita than your average cookie. M&Ms, nutella, peanut butter, and even instant coffee granules are included. The original recipe comes from the Pioneer Woman's website and once baked they are flat and crisp. If you prefer a fuller figure, bustier cookie like I do, just add 1 teaspoon of baking powder as well as the existing baking soda to the recipe. Enjoy!