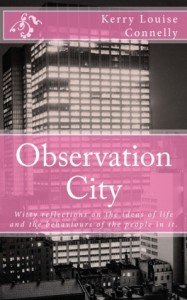 Kerry Connelly is the author of "Observation City." Here she gives a wonderful preview of this entertaining read…

Have you ever considered how much the idea of superstition could impact our lives? Or the concept that we may all very well have been born with a karmic tally board of which we can accumulate and lose points throughout life?
Have you just had a rubbish chain of first dates, ever been called 'snappy,' had an unattainable love, or has someone ever asked to buy your knickers?
In this hilarious and fascinating look into the ideas of life and the behaviours of the people in it, Kerry Connelly manages to ask questions that you may not have even considered. From dead end jobs to a woman's resume and taking control of your dreams, "Observation City" has been noted as a 'charismatic companion for a fun, interesting and highly entertaining read.'
Full of witty reflections and situations relatable to women and men alike. "Observation City" is one light and enjoyable read.
EXCEPTS:
"Whoever thought the idea of cupid to be a romantic one? If I saw a man in diapers walking toward me with a bow and arrow, I'd scream for security and run the other way! In what crazy world did a man with a weapon become the poster image for love and romance?" – Cupid's Sly Eye.
Roll up, roll up! Your first big breath buys you a ticket to the most thrilling event of them all – The Karma Carnival. Earn tokens as you go, take a ride on the 'what goes around comes around' and guide your way through the maze of fun house mirrors. Enjoy the Karma Carnival although it never advertises when it's coming to town. – Karma Points.
"Observation City" is available worldwide and soon to released on kindle. Stay up to date via Kerry's page and website:
Where to buy "Observation City":
(Free shipping)
Or, check your favourite site.