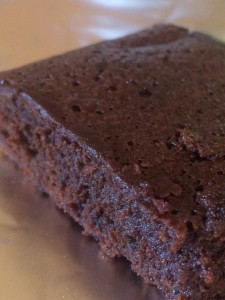 These Brownies with Coffee and Almond Extracts are the best brownies ever — I promise! So moist, delicate and easy to make, these aren't your every day brownies. So, without further ado, let's get to the recipe.
Ingredients: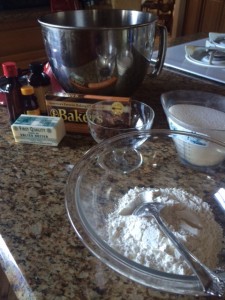 5 oz. unsweetened chocolate
10 1/2 tablespoons butter
1 tablespoon instant coffee
4 large eggs
2 cups sugar
1 teaspoon vanilla
1/4 teaspoon almond extract
1 teaspoon salt
1 cup flour
Start off by pre-heating the oven to 450 degrees. Then, use a spray oil to lather up your 9 x 13 pan. Place a sheet of wax  paper on top of the oil so it stays in place and give that a little spray as well.
Place the butter and chocolate in the top  of a double boiler. If you don't have a double boiler (like moi!) don't fret. Just stick a bowl on top of a pot filled about 1/3 of the way with water. Boil the heck out of that water and cover the bowl.  Occasionally stir the chocolate and butter to melt,  but use a hot pad because that bowl isn't the same as using a double boiler and it will toast your little fingers right off.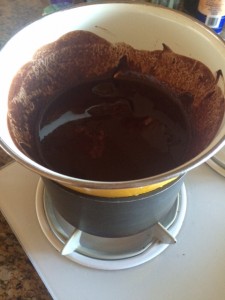 While it's boiling away, add the eggs to a mix master. (Do you think of cool rap music when I say "mix master"? Anyway, I digress…) Whip those eggs until light then slowly add the sugar and continue to beat on a medium speed for 15 minutes.  Yes, 15. It changes the consistency and this is important. At the end of the 15 minutes, add the vanilla and almond extracts.
Add the salt and coffee to the melted chocolate while it's still fairly hot so the coffee melts. When the chocolate is completely cooled, add it to the eggs.  If it's not cooled, you'll end up with scrambled chocolate eggs and that's an entirely different recipe!
Finally, add the flour to the chocolate mixture and blend until just combined. Pour into your prepared pan and immediately turn the oven down to 400 degrees. This is super important or your brownies won't be little fudgy nuggets of amazingness. Bake for 21 minutes.
Invert your pan onto a cookie sheet and peel away the wax paper. Then invert again and allow to cool before eating…if you can!