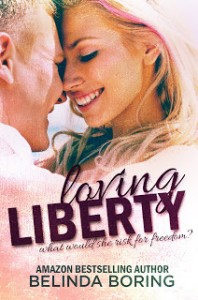 Author Belinda Boring's newest title, "Loving Liberty," is climbing up the Amazon charts and is it any wonder? I can't wait to read this one myself. Check out the description:
Liberty Montgomery is many things:
A dutiful daughter.
Perfect wife-in-training.
Easy to manipulate.
Compliant.
But secretly she wants more.
For years, Liberty has dreamed of a life filled with opportunities—a life where she makes the decisions, living by her own rules. Unfortunately, her parents have other plans for her, ones that involve her submission and total obedience. Every attempt to break free from their control is met with threats, leaving her feeling trapped.
Just when all seems hopeless, Liberty meets Oliver Nichols. With just two words–be brave– he stirs up her secret longings for more . . . friendship, fun, and independence. He almost has her believing her dreams are possible. However, taking a stand can be terrifying when you've spent your entire life pleasing others.
Are some chances worth taking? What would she risk for freedom?
Grab your copy here: