by Belinda Boring, Julia Crane, L.P. Dover, Lizzy Ford, Mia
Fox, Cambria Hebert, Cindy Mezni, Melissa Pearl, Alexia Purdy, Cameo Renae
The Paranormal Pantry is a unique collection of first chapters from your favorite romance authors. Here, you'll get a "taste" of their most popular books. Following each chapter, the author will give you a peek into their own pantry with a dessert recipe and their reason for choosing it. Some of these recipes are in keeping with the theme of their first chapter, others are simply a family favorite. Regardless of the
reason, we hope that they'll become a long time favorite of yours as well.
Adding to the sweetness of this book is the fact that 75% of proceeds are donated to Get-Lit, a leading nonprofit presenter of literary performance, education, and teen poetry programs. Their goal is to inspire teens to read, thereby leveling the playing field between rich and poor, mainstream and marginalized, and bringing previously unheard voices to the forefront.
The authors of this
anthology thank you in advance for doing your part to support this important
literacy program.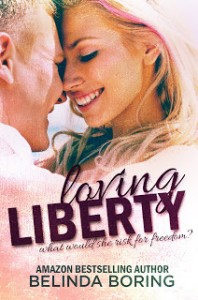 Author Belinda Boring's newest title, "Loving Liberty," is climbing up the Amazon charts and is it any wonder? I can't wait to read this one myself. Check out the description:
Liberty Montgomery is many things:
A dutiful daughter.
Perfect wife-in-training.
Easy to manipulate.
Compliant.
But secretly she wants more.
For years, Liberty has dreamed of a life filled with opportunities—a life where she makes the decisions, living by her own rules. Unfortunately, her parents have other plans for her, ones that involve her submission and total obedience. Every attempt to break free from their control is met with threats, leaving her feeling trapped.
Just when all seems hopeless, Liberty meets Oliver Nichols. With just two words–be brave– he stirs up her secret longings for more . . . friendship, fun, and independence. He almost has her believing her dreams are possible. However, taking a stand can be terrifying when you've spent your entire life pleasing others.
Are some chances worth taking? What would she risk for freedom?
Grab your copy here: