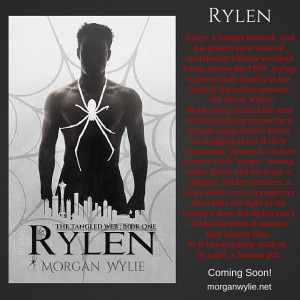 I'm so pleased to be able to showcase the cover reveal for Morgan Wylie's latest novel…"Rylen."
This NA paranormal romance is set in Seattle. Described as a "badass warlock," Rylen works with a pseudo swat team of unorthodox villains. Find out what happens when he is stalked by a girl…a human girl, no less.
Coming soon from Morgan Wylie.
Follow on Twitter and Instagram @MWylieBooks.