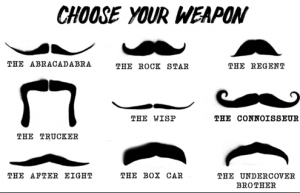 Ladies…got a question for you? Can I see a show of hands for anyone who agrees we should give three cheers that Movember is Over!
I found a humorous blog article that claims, "You'll want a mustache after seeing these manly romance novel posters." I'll let you all be the judge. But for me, I prefer the men in my romance novels to wake with just a bit of stubble in the morning, leading them to hit the shower and become the clean-shaven dashing man that is hidden beneath that hairy surface.
While I know that Movember was for a good cause, I was forced to endure a Thanksgiving dinner with a motley looking crew of men in various conditions of facial hair. There was my nephew who was sporting a mustache that barely graced his upper lip, but seemed to gain steam once it trickled down the sides of his mouth. Then, there was my brother-in-law with a beard that hung more around his throat then anywhere else. And my own husband, well…he outdid himself with a bit of a mustache/beard smorgasbord.
I'm glad that #Movember is gaining popularity and will hopefully be a step in the right direcction for finding cures to many of men's health issues. But now that it's December, I'm going to relish in the smooth look of my husband's face.
Related articles across the web