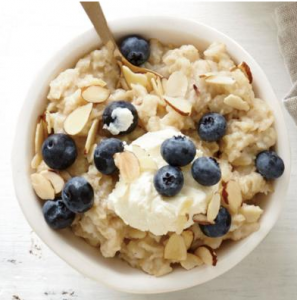 Everyone knows that oatmeal is good for you. It can also get a bit boring. But now, you can have oatmeal your way — delicious every day! Courtesy of Cooking Light Magazine, here are new recipe ideas for turning the every day oatmeal into extraordinary oatmeal.
For each recipe, start with 3/4 cup of water. Bring to a boil, stir in 1/2 cup of old-fashioned oats and a dash of salt. Reduce heat, simmer for five minutes, stirring occasionally. Remove from heat and finish with one of these toppings.
Goat Cheese and Cremini
Saute 1/2 cup of sliced cremini mushrooms and add crumbled goat cheese along with 2 tablespoons of half and half and a dash of thyme. It may sound odd for breakfast food, but it's delicious and perfect for a brunch.
Lemon-Blueberry with Mascarpone
Stir 1 teaspoon sugar and 1 tablespoon lemon curd into oatmeal. Top with 3 tablespoons of fresh blueberries, 1 teaspoon mascarpone cheese and 2 teaspoons of sliced almonds.
Chai Spice and Pear
Saute 1/2 a pear and add 1 teaspoon of honey.Stir in 1 1/2 tablespoons of sweetened condensed milk, 1/8 teaspoon cardamon, 1/8 teaspoon of ginger, and 1/8 teaspoon of allspice.
Sunflower Seed Butter, Banana, and Chocolate
Mash 1/2 banana with 2 tablespoons of your favorite nut butter. Add 2 teaspoons of brown sugar and 1 tablespoon of chocolate shavings.
Got ideas of your own? I'd love to hear about your ways to dress up oatmeal.
Related articles across the web