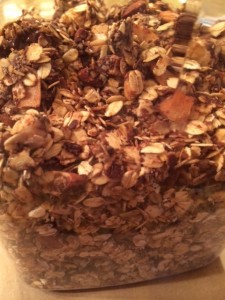 This is the most amazing granola — more of a snack than a cereal. You're going to want to dump a healthy handful into a bowl, grab your favorite book, and call it a day.
Ingredients
1/4 cup coconut oil, plus a bit extra to grease the cookie sheet
1/3 cup unsweetened cocoa powder
1/4 cup honey
1/4 cup granulated sugar
1/8 tsp. vanilla extract
1/8 tsp. coconut extract
2 1/2 cups oats
1/2 cup raw almonds, chopped (easiest way I know to smash them is to put them in a plastic baggie, grab a rolling pin, and go to town on them)
1/2 cup coconut chips, if desired
1/2 cup chocolate chips
Directions
Preheat oven to 275 degrees. Use a brush and grease a cookie sheet with a tad of coconut oil.
Grab a small pot and throw in the sugar, honey, cocoa powder, and coconut oil. Heat and stir until smooth. Add the two extracts.
Toss the almonds and coconut chips in with the oats.
Stir the chocolate mixture into the oats. Put onto the cookie sheet and press with your hands until flat and about half an inch deep. Bake for 50 minutes. Then, turn the oven off, but leave the cookie sheet where it is for 30 more minutes.
Bring it out of the oven and toss into a bowl, breaking it into pieces as you go. Don't bother to taste it yet…you're not finished. Add the chocolate chips. Let them get kinda gooey and delicious all over it. Now grab your bowl!