Author Charity Parkinson Strikes a Chord with release of "Heart's Chord." Read on for details…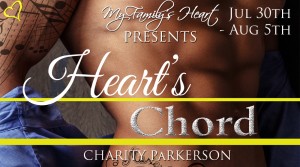 BOOK INFORMATION
TITLE –  Heart's Chord
SERIES –  Ugly Eternity, 5
AUTHOR –  Charity Parkerson
GENRE –  M/M GBLT Romance
PUBLICATION DATE –  July 6, 2015
LENGTH (Pages/# Words) – 122/23829
PUBLISHER – Punk & Sissy Publications
COVER ARTIST – Charity Parkerson for Punk & Sissy Publications art department
BOOK SYNOPSIS
Even though he already has more to do than there are hours in the day, Finn has no problem adding Austen to his life. The sexy former marine is the only good thing that's happened to Finn in a long time.
For Austen, Finn is the perfect man. If he sees anything lacking in Austen, he never shows it. But falling in love with Finn changes everything for Austen. All the insecurities he's faced since he has come home from deployment confined to a wheelchair come rushing back to the surface. No matter how hard he tries, he can't let Finn in.
When Finn decides he's had enough of not being enough, and his dreams come crashing down around him, he's ready to walk away from everything for good. But he never counted on Austen's reaction to losing him, or how far his Ugly Eternity family will go to make his dreams a reality.
**Author note**
This is an Ugly Eternity bonus story. It can be read as a standalone.
BUY & TBR LINK
S
AMAZON KINDLE US – bit.ly/HeartsChord
AMAZON KINDLE CA – http://bit.ly/HeartsChordCA
AMAZON KINDLE UK – http://bit.ly/HeartsChordUK
AMAZON PAPERBACK –  http://bit.ly/HeartsChordPBA
GOODREADS –  http://bit.ly/HeartsChordGR
EXCERPT
"You need some posters or a mural or something on the ceiling in here," Finn mused aloud after a few minutes.

"Why's that?"

Finn squinted at the offending blank ceiling, attempting to picture the perfect art as he answered. "Judging by your incredibly sexy body, you spend a lot of time in here. You need something to focus on. There're some studies that suggest visual stimuli is directly linked to physical health."

"What do you think of these studies?"

At the curiosity in Austen's voice, Finn rolled onto his side and up onto his elbow. His gaze swept down Austen's body, taking in every hardened line and scar. His cock lengthened as hunger rose inside him. This man was under his skin. There wasn't one particular attribute he could point to in order to explain his insane desire to touch Austen, but it was there. When he met Austen's stare, there was no way Finn could hide his desire. "I think a little visual stimulation has never hurt anyone."

Austen's mouth quirked in one corner at Finn's claim. "The view in here is looking pretty damn good right now."

Finn wanted to kiss him. His lips tingled with longing, but sometimes, Austen didn't invite Finn's touch. He didn't know how to explain it. There were moments when Austen's expression remained closed, shutting Finn out—times such as now. Tearing himself away from temptation, Finn settled down beside Austen once more, going back to staring into space. "I can't hang around all day, but maybe I can figure out something else. Maybe there's a book somewhere about images for every environment."

He felt Austen tense beside him a split second before Austen's mouth came down upon his—hard and hot. Surprise gave way to lust in an instant as Finn opened for him. Finn flattened his palms against the floor beside him to keep from reaching for Austen. His skin itched to be closer, but he didn't want to ruin the moment, and it seemed like he always did somehow.
AUTHOR BIO
Charity Parkerson is an award winning and multi-published author with Ellora's Cave Publishing, Indie Publishing House LLC, and Punk & Sissy Publications. Born with no filter from her brain to her mouth, she decided to take this odd quirk and insert it in her characters.

*2015 Passionate Plume Finalist for Paranormal Erotica
*Winner of 2, 2014 Readers' Favorite Awards
*2015 Golden Flogger BDSM Award Finalist
*2013 Readers' Favorite Award Winner
*2013 Reviewers' Choice Award Winner
*2012 ARRA Finalist for Favorite Paranormal Romance
*Five-time winner of The Mistress of the Darkpath
AUTHOR FOLLOW LINKS
Amazon Author Page –  amazon.com/author/charityparkerson
Website/Blog – http://www.charityparkerson.com
Fan email: admin@charityparkerson.com
Facebook –  http://www.facebook.com/authorCharityParkerson
Twitter –  http://www.twitter.com/charityparkerso
Google+ – google.com/+CharityParkersonAuthor
Pinterest – http://www.pinterest.com/authorparkerson/
Tumblr – http://thesinnerauthor.tumblr.com/
Networked Blogs – http://www.networkedblogs.com/blog/the-sinners-series
Goodreads – https://www.goodreads.com/author/show/4506281.Charity_Parkerson
Shelfari – http://www.shelfari.com/authors/a2942626/Charity-Parkerson/
Others – http://www.coffeetimeromance.com/OurAuthors/CharityParkerson.html
https://www.ellorascave.com/author/charity-parkerson
http://passionateink.org/forum/index.php?showuser=2945
GIVEAWAY!