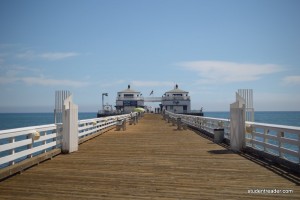 My book, "Malibu Angel," is set in Malibu, California, one of the most beautiful beaches and home to surfers, celebrities, and regular folk. If you're able to make a visit, here are my Malibu Top Five favorite things to do — some taken from the pages of my book.
El Matador Beach
This is the most beautiful beach…ever! Rock caves, surfing, a wooden staircase that leads down to the shore. It's perfection.
Malibu Pier
Relaxing, walking, shopping, eating. Malibu Pier has it all.
Solstice Canyon
If you're a hiker, this is a gorgeous venue. It's famous for its waterfall, the only year-round one found in the Santa Monica Mountains National Recreation area. The full hike is six miles, but there are shorter versions.
Pepperdine University
The university sits atop a hill with views of the Pacific Ocean yet somehow students manage to get their work done free of distractions.
Malibu Country Mart
This open air shopping center features amazing boutiques and restaurants for definitive foodies. There's even a child's playground in the center.
If you've taken part in any of these activities, tell me about your experience.