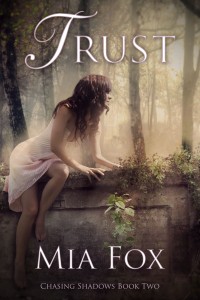 "Trust" by Mia Fox is a new adult contemporary romance. This novella contains some sexual content that is not intended for young readers.
Details about this cover: Photography by Cathleen Tarawhiti. Model – Melanie Bevan. Digital art by Consuelo Parra. Typography by Eden Crane.
"Trust" synopsis:
Ella's struggle…

After losing Nate, trusting her heart to love again seems impossible for Ella. In spite of her family's desire that she move on with her life, it's the last thing she wants…especially since she has a connection to Nate's ghost.
Ethan's resolve…
Ethan knows about grief. Not only does he counsel people suffering from loss, he's also lost a loved one. When he meets Ella, he makes it his mission to heal her broken heart. With time the boundary between patient and doctor blurs as Ethan finds himself falling in love. Yet he must suppress his feelings for fear of crossing a line that is based on trust.
Nate's determination…

Being without Ella while in Afghanistan was hard. Having to say goodbye again is even worse. Although now a ghost, Nate can still make Ella happy when he visits. Their time together is precious, yet fleeting. Although being with Ella again is life's sweetest gift, Nate is desperate to heal her troubled mind and broken heart.
An unbreakable bond…
When Ella becomes increasingly reckless and sets off on a dangerous journey into the rugged wilderness, it's up to both Nate and Ethan to find her. One man represents her past and one her future. One will use his marine training and the other his knowledge of psychology to keep Ella safe and help her…Trust.
Add "Trust" to your Goodreads TBR list:

"Trust" on Goodreads
Sign up for the "Trust" Release Day Blitz on July 20th.

Release Day Sign-Up
About Mia Fox

Mia Fox is a Los Angeles-based novelist who writes across varied genres including Contemporary Romance, Paranormal Romance, Steampunk, and Chick Lit. She received her Bachelor of Arts Degree in Communications from U.S.C.
Before writing full time, she worked as an entertainment publicist, a career she chronicles in her novel, "Alert the Media." However, she is happy to leave that world behind her, preferring that any drama in her life is only that which she creates for her characters.
She lives in Los Angeles with her husband, three children, Casey, the Wonder Westie, and Bean, his brother.
 
Find Mia online…