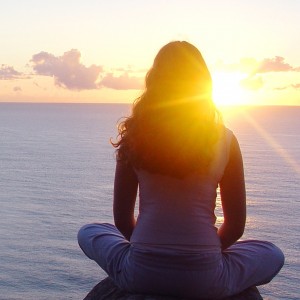 Work, marriage, kids…responsibilities. As women, we tend to take on a lot for others, but when it comes to ourselves, we forget to just breathe. Those who read my blog know that I love yoga and through it, I learned meditation. If you've never tried meditation, your initial reaction might be that you just don't have the time. But that's kind of the point.
Humor me. Try meditation for one week. Your sessions can be as short as five minutes…even one minute. Just do it every day and you'll see why experts claim that you'll be calmer, handle stress better, and even sleep better. For myself, I feel inspired afterward and ready to sit down and create my stories.
Studies show that meditation helps to increase density in the area of the brain responsible for regulating emotions and processing information. It also shrinks the amygdala, the part of the brain that responds to stress. So, what are we waiting for?
Here's how to meditate in four easy steps.
Make time to meditate. Like I said, it can be for as little as one minute.
Find a peaceful place. Perhaps sit near an open window where the sounds of nature can be heard — the breeze, birds, leaves rustling. See? You feel better just reading about this.
Sit comfortably either cross-legged or on a pillow. Close your eyes. Let your tongue rest lightly against the back of your teeth.
Just breathe. This is the key to keeping your mind from wandering to all of the distractions and stressors. You can even say those two words in your head as you inhale and exhale quietly.
If you find that you want guided assistance with meditation, there are a number of apps that you can download such as Buddhify.
Related articles across the web