I can't wait to grab my copy of "Fever," a new  adult contemporary romance by Melissa Pearl as the very premise is giving me chills and apparently it's resonated with others too. Early Amazon reviews call it charming, sultry, and seductive so without further ado…
Title: Fever
Author: Melissa Pearl
Release date: June 11, 2014
Genre: New Adult Contemporary Romance
Singing in the shower takes on a whole new meaning in Melissa Pearl's first New Adult Contemporary Romance. Ella Simmons does not want to move across the country. But she is, because her boyfriend has persuaded her to join him at UChicago to finish out her college education. Never able to tell him no, she hops on a plane and makes the trek from L.A. expecting to adjust to life like she's often forced to, but things are not that simple when she hears a luscious voice singing over her shower wall. His deep, sexy tenor makes her weak in the knees, spreading fire through her limbs and making her question everything about her life and relationship. Can one voice really have that much of an impact?
Cole Reynolds is on his way out. In his final year at UChicago, the only thing he wants to do is finish school and get on with his life. But the sweet voice that interrupts his morning shower turns his world upside down. Compelled to find his shower songbird, he begins a search across campus. The only thing to distract him from this goal is his roommate's gorgeous girlfriend who's just arrived from L.A. – Ella Simmons.
Relationships are put to the ultimate test as future dreams are questioned and friendships are thrown on the line for love.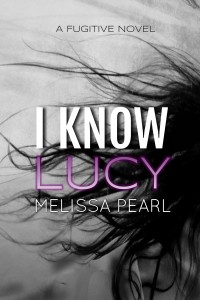 Check out this beautiful cover for Melissa Pearl's latest novel, "I Know Lucy," which releases on April 20, 2014.
Genre: YA Romantic Suspense
Lucy Tate is on the run. After witnessing the brutal murder of her parents, she's spent five years in hiding — taking on different personas and faking her way through life. The authorities can't be trusted, so she remains in the shadows, always one beat ahead of the man who is forever hunting her. That is, until she meets Zach Schultz, a senior at Monte Vista High and the one guy she can't bear to leave. Suddenly her natural instincts to lie, steal, and run are overshadowed by something else…the desire to stay. It's her one shot at a normal life.
Curious by nature, Zach is immediately drawn to the new girl at school. How can a person look both confident and vulnerable all in the same moment? Determined to learn more about her, he tries to get close, but is thrown into a world of lies and confusion. The only thing that becomes apparent is that discovering the truth may get him killed.
Add "I Know Lucy" to your Goodreads TBR List
And because it's so hard to wait, here's a teaser…
ZACH…
"This is different, you guys." I shook my head. "I mean yes, she is gorgeous. And yes, I'm attracted to her, but it's not just her looks. There's something about her. She's intriguing. It's like she's not all she appears to be or something."
"You can tell that after two minutes of interacting with her? Give me a break." Elliot balled up his napkin and threw it on the table.
"I know I don't know her at all yet, but I can tell there's something more there." I rubbed my bottom lip.
"She looks normal to me." AJ shrugged.
"I think she's pretty. She looks sweet, but…" Liesl turned to spy her quickly. "AJ's right. She looks like any other transfer student. What makes her so different?"
"It's something about her eyes. There's a story in them. I can't even explain why I think that. I just feel like she's got a lot of layers and I want to peel back every single one of them."
"I bet you do." Elliot raised his eyebrows.
"Not like that." I threw him a droll look. "I just want to solve the mystery that is Danielle Harrison."
"Dude, there is no mystery." Elliot slapped his hand lightly on the table.
"Yes there is. I can feel it."
"Careful, Zachy, your Nancy Drew is showing." Jaeda's green eyes were large and round as she gave me a playful look.
"I don't care." I shrugged, confident in the truth that I really didn't. "That girl over there has secrets and I'm gonna figure out what they are."