by Belinda Boring, Julia Crane, L.P. Dover, Lizzy Ford, Mia
Fox, Cambria Hebert, Cindy Mezni, Melissa Pearl, Alexia Purdy, Cameo Renae
The Paranormal Pantry is a unique collection of first chapters from your favorite romance authors. Here, you'll get a "taste" of their most popular books. Following each chapter, the author will give you a peek into their own pantry with a dessert recipe and their reason for choosing it. Some of these recipes are in keeping with the theme of their first chapter, others are simply a family favorite. Regardless of the
reason, we hope that they'll become a long time favorite of yours as well.
Adding to the sweetness of this book is the fact that 75% of proceeds are donated to Get-Lit, a leading nonprofit presenter of literary performance, education, and teen poetry programs. Their goal is to inspire teens to read, thereby leveling the playing field between rich and poor, mainstream and marginalized, and bringing previously unheard voices to the forefront.
The authors of this
anthology thank you in advance for doing your part to support this important
literacy program.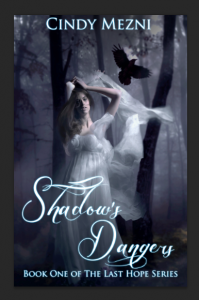 Swiss author Cindy Mezni is making her U.S. debut with "Shadow's Dangers," book one of The Last Hope series, to be published by Evatopia Press, Thanksgiving 2013.
This beautiful cover was photographed by Claudia McKinney of PhatPuppy with typography by Catie Crehan. Read on for a tidbit of this exciting new YA paranormal romance:
Appearances can be deceiving…
Losing a loved one is never easy. Although Deliah learned to live without her parents when fate took them from her as a young girl, history repeats itself and causes her to face even greater challenges when Tess, the woman who raised her and was like a second mother to her, passes away. But even worse than dealing with her loss is the coinciding arrival of inexplicable nightmares that haunt Deliah's nights. 
She becomes consumed with images she didn't understand and a recurrent dream about her parents' car accident. Oddly, this dream details different versions from what she had always been told about the accident. 
But when a new family, the Wates, arrive in town and begin to pay close attention to her, even stranger events follow. Now, Deliah must not only face her nightmares,