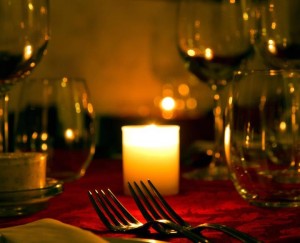 When you get home do you immediately start the conversation with your partner by rehashing what happened at work? And if so, do you ever wish that your relationships could be more like the ones in the romance novels you read? Maybe it's time to create a work free zone?
It's not that you can't talk about your work, you just need to know when. Let's face it, work is not sexy. Even if you're a Victoria's Secret model, you still have to show up on time, deal with cranky co-workers (probably more than most people!) and be accountable. Talking about work when you first get home is probably the most definitive way to ensure that you don't have a romantic evening.
But I want to share my day with my partner, you think to yourself.
Okay then. Here are some tips for how to balance romance with rehashing the day's events:
Don't underestimate the power of non-verbal communication. If you lean on your partner, literally, he'll sense that you might not have had a particularly stellar day. Your reward will be a warm hug in which you'll feel loved, rather than stressed after telling about the co-worker who tried to back stab you.
Another decidedly unsexy proposition, but the alternative is far worse. Take time to meal plan by buying ingredients on the weekend and using clever make-ahead recipes. If you want to go so far as to have dessert, try my special brownie recipe, which has an essence of coffee and almonds! The result will be that you come home to the inviting smell of dinner already cooked to perfection in your crock pot rather than having to scramble to put something together when you're both tired.
Make an event out of dinner.
If you've followed both of the tips above then you and your partner should be feeling a bit more relaxed by the time you even sit down for dinner. You've held each other. You smell the food and it's sure to be delicious. Pour yourselves a glass of wine. Set the table with nice dishes and candles (maybe get it ready before you leave in the morning). Now it's time to sit down, relax, and enjoy each other's company. There's a fine line between sharing and over-sharing. Take advantage of your pre-planned candlelit dinner.
Put work on the back burner (ahem, after romance ensues). By the time you get around to talking about your work day, chances are you will have had time to put things into perspective and just maybe, you won't even feel the need to vent.
Looking for more romance and recipe advice? Sign up for my newsletter and you'll get this as well as quarterly giveaways.