Kids love dressing up in green for Saint Patrick's Day and I wanted to get in on the action. But instead of just dressing up, I decided to dress up our dessert too with this very green, but oh so delicious key lime cake courtesy of Trisha Yearwood.
After you've butter and floured a 9 x 13 inch pan, set the oven for 350 degrees. Now combine the following:
One 3-ounce package lime flavored gelatin
1 1/3 cups granulated sugar
2 cups sifted all-purpose flour
1/2 teaspoon salt
1 teaspoon baking powder
1 teaspoon baking soda
Add the following to the dry ingredients:
1 1/2 cups vegetable oil
3/4 cup orange juice
1 tablespoon lemon juice
1/2 teaspoon vanilla extract
5 large eggs, slightly beaten
It mixes up in just one bowl so not only is it yummy, but easy to make as well. Just look at this gooey green batter!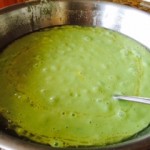 Bake for 35-40 minutes until a toothpick comes out clean.
While it's baking, make this easy glaze.
Glaze:
1/2 cup key lime juice (from about 25 small key limes or 4 large regular limes)
1/2 cup confectioners' sugar
I've got a trick for getting juice out of a lime. Stab it with a fork and twist the lime around the utensil.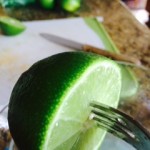 Next for the fun part and what makes this cake so moist. When it comes out of the oven and is still warm (not hot), stab it all over with a fork. Now slowly pour your glaze over the top, allowing it to seep into your fork holes.
Time to make your icing. Don't worry…so easy. Just let the ingredients come to room  temperature.
Icing:
1/2 cup (1 stick butter), room temperature
One 8-ounce package cream cheese, room temperature
One 1 pound box confectioners' sugar
lemon juice to taste
Cream the butter and cream cheese. Add the confectioners' sugar slowly…very slowly or you will be covered in it. Mix until mixture is smooth. Add in a couple tablespoons of lemon juice to taste. When your cake is cool, spread this bit of scrumptiousness all over it.
And voila! Your finished cake! Who says it's not easy being green? Everyone is going to want a piece of this one.