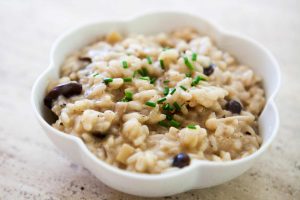 Date Night Mushroom Risotto is the perfect meal for a romantic dinner at home. If you've read my previous post about the ultimate date food, it ticks all the boxes. First and foremost, it's delicious. It's also impressive, easy to eat, and won't leave you with bad breath or bloating. Most important, it'll leave you wanting dessert.
Ingredients
Here's your list of ingredients:
1 carton low-sodium chicken or vegetable stock
1 tbsp.
extra-virgin olive oil
4
sprigs thyme, leaves removed
1/2 cup
freshly grated Parmesan
3/4 cup
frozen peas, thawed
2 tbsp.
chopped fresh parsley
Directions:
These are the steps to making your Date Night Mushroom Risotto
In a medium saucepan over medium heat, bring chicken stock to a simmer. Reduce heat to low.
In a large pot or Dutch oven, heat oil. Add onion and cook, stirring often, until translucent, about 5 minutes. Next, add 1 tablespoon butter, garlic, mushrooms, bay leaf and thyme. Cook until the mushrooms have softened and are golden, about 4 more minutes, then season with salt and pepper. Remove mixture from the pot.
Continue by melting remaining tablespoon butter in the pot and add the arborio rice, stirring quickly. Cook until the grains are well-coated and smell slightly toasty, about 2 minutes. Add the wine and cook until the wine has mostly absorbed.
With a ladle, add about 1 cup of hot stock. Stirring often, cook until the rice has mostly absorbed liquid. Add remaining stock about 1/2 cup at a time, continuing to allow the rice to absorb each addition of stock before adding more. Stir often and cook until the risotto is al dente and creamy, not mushy. (You might not need all the stock.)
Add the mushroom mixture back into the rice.
Finally, stir in Parmesan and peas then garnish with parsley. Serve warm.
Best Practices
Before launching into cooking, here are some "best practices" to keep in mind when making Date Night Mushroom Risotto.
1. Use hot stock.
Before starting, heat your stock in a separate pan over medium heat. Hot stock will help keep the temperature from dropping each time you add it to the rice. The faster your rice absorbs the liquid, the better your risotto texture will be.
2. Keep stirring.
In "Finding Nemo" Dory always said, Just keep swimming." Swap that little song for "just keep stirring" and you'll end up with perfect risotto. Arborio rice is very starchy, so the chances of burning increases. Do not leave it for even a second. Just keep swimming… err stirring.
3. It's all in the cheese.
You'll notice that there aren't a lot of ingredients. Therefore, the quality and flavor of each one is important. Fresh herbs. Fresh cheese. Parmesan from a can doesn't belong in your date night mushroom risotto.
The whole point of this blog is to offer recipe advice for a sure-fire romantic meal. This is it! Put in the time before he arrives and all you have to do is heat up the risotto. Then, you can heat up the rest of the evening as well.